Next Saturday I am participating in the Nick Adenhart 5K. I'm truly excited to compete in this race since Nick is still considered one of Williamsport, Maryland's hometown celebrities.
For those of you who aren't familiar with the name, Nick Adenhart was added to the Los Angeles Angels roster as a starting pitcher in 2008, making him the youngest player in the majors at that time. He was also ranked as one of 2009's "Top 100 Prospects" by
Baseball America
.
Nick had an amazing baseball career in front of him, even through his final game.
On April 8th 2009, Nick performed his best against the Oakland Athletics.
"I thought he pitched a terrific game. He gave us a chance to win. He has better tools out there now. He pitched ahead a lot and was able to get back in counts and put guys away."
Only hours following the game Nick received glowing reviews on, he was involved in a deadly car accident. The driver of a minivan, Andrew Thomas Gallo, ran a red light, striking the Mitsubishi Nick was in, killing him and 2 others. A 4th occupant was critically injured, but was fortunate enough to live.
Gallo had fled the scene of the accident, but later turned himself in to authorities. He was later sentenced to 51 years to life in jail.
April 10th 2009: Nick Adenhart Memorial following game with Boston Red Sox at Angel Stadium of Anaheim
After Nick's tragic death, the Adenhart family created
The Nick Adenhart Memorial Fund
, which provides financial support to struggling youth baseball leagues. In effort to raise money, the memorial fund holds two annual events: The Nick Adenhart Baseball Camp and The Nick Adenhart 5K.
I am very enthusiastic to participate in the 5K for the first time. I went to Williamsport High School with Nick and have to support the legacy a fellow Wildcat left behind.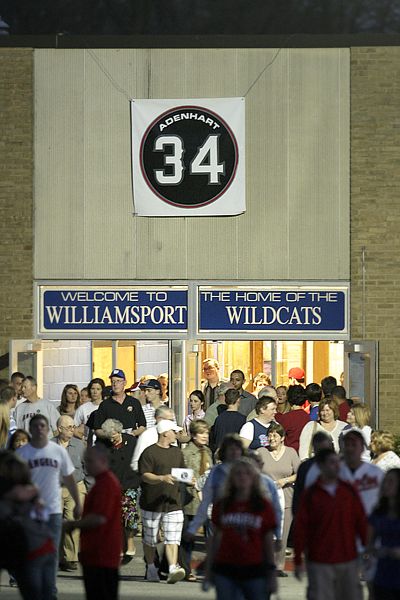 I may not be a baseball player or know much about it, but I am a runner and if running helps support a great cause, I will run my little heart out.
If you would like to make a donation to the Nick Adenhart Memorial Fund, please visit their
Facebook Page
and find out how.
Do you have any hometown heros/celebrities to made an impact on your neighborhood Do you sign up for any races specifically to support the cause they are funding?