Food Foto Friday has been postponed! It was one of those days where I didn't have time to do anything but work. It's been quite the week. I think I've gained some gray hair. :(
Today will just be Food Friday: Chicken Quesadilla Style
*****
When I choose to go to Taco Bell, my menu choice is always the same: A chicken quesadilla...and do not forget handfuls of the hot sauce packets.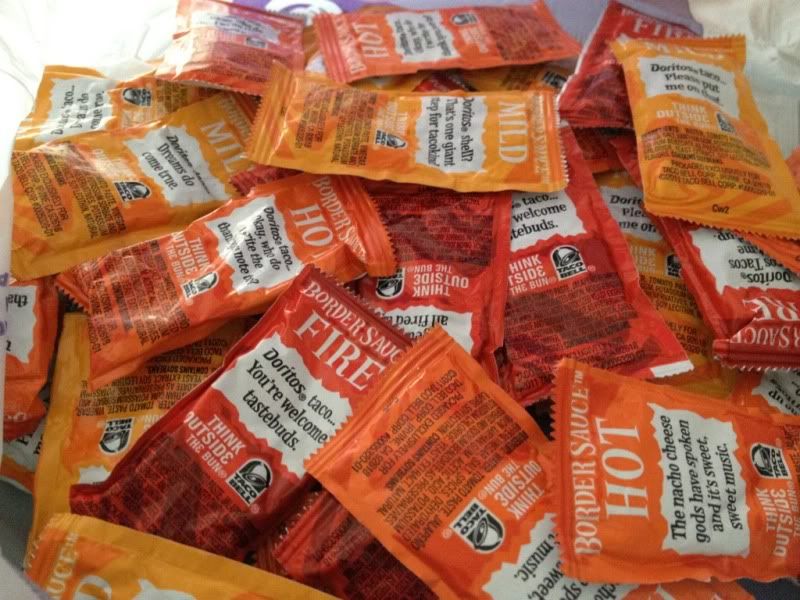 I started making my own quesadillas about a year ago and I must say, I think I have Taco Bell beat. The recipe is super easy so get ready to make your own!
SPICY CHICKEN QUESADILLAS
Yields 4 Quesadilla Servings
Ingredients
*Note: These amounts are purely estimates of what we normally use.*
8 Ct Medium Whole Wheat Tortillas (we have used both the Mission and Chi-Chi brands, both good)
1.25 lb Skinless Chicken Breast
1/2 Small Onion, Chopped
1/4 Cup Frank's RedHot
1/2 Bell Pepper, Chopped
Shredded Mozzarella Cheese
1/2 Cup Ranch Dressing (we used the light version)
Directions
Cut chicken into cubes and cook on a lightly oiled skillet. Add 1/4 C of Franks to marinate chicken (we also added a dusting of chipotle seasoning, use if you'd like). Before chicken fully cooked through, add onions and peppers. Let simmer.
In a small bowl, mix ranch with desired amount of Franks. (We normally add a little at a time, stir and taste. We will add more if not zesty enough. If you add too much, you can always mix in more ranch, you may have leftover mix in the end)
Spoon spicy ranch mix onto a tortilla and spread evenly. You only need about 2 tbsp per tortilla. Sprinkle on desired amount of mozzarella and add cooked chicken mixture. Place another tortilla on top
On a skillet, cook quesadilla until each tortilla has browned, flip as needed. (we purchased a George Foreman Quesadilla Cooker because I suck at flipping anything on a skillet).
Cut and serve with desired dips.